This article has been evaluated to be at quality level 5.
This article may seem complete to the untrained eye, but the gaps in information are still large enough for this elite team of Panauan Ninjas to hide inside of.
Porto Vena

Rebellion boats show up as support during the liberation.
Settlement in Medici
Type
Military port
Region
Insula Fonte
Province
Sirocco Nord
Coordinates
Unknown
Missions that take place here
None

Porto Vena is a military port in Just Cause 3.
Description
Edit
The port is at the coast and has many large indestructable cranes. There are also Transformers, a range of cargo boats, watch towers, Distillation Towers and Fuel Depots.
There are mountains in the distance, and it appears that there is a strong Medici Military presence. After it is liberated, it presumably becomes the primary port for the southern islands of Insula Fonte, if not for the region itself.
The in-game map description states: "Once a bustling, exotic market, the sprawling harbor of Porto Vena is now the largest military port in the Mediterranean."
The nearby Unnamed port at N 40 39.000 E 5 43.250 is actually much better suited to service large ships, because that port is next to open water, where as this one is on the banks of a river/canal.
Completion
Edit
Liberating this base will unlock the following:
The location was first seen in the Wingsuit Experience App.
According to the in-game bio, Porto Vena is the largest port of its kind in the Mediterranean.
Main article: Just Cause 3 Bugs and glitches.
 PC   As reported by User:Category Theory, playing "full HD" on a PC, only the first item from the rewards is listed in the in-game description. This may be related to not having enough room to list all of the unlocks below the long list of things that need to be destroyed.
At 20:16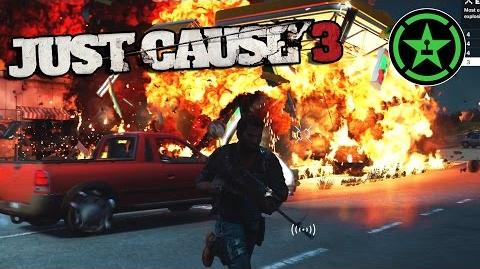 Community content is available under
CC-BY-SA
unless otherwise noted.