Autostraad
is a company in
Just Cause 3
.
Description
Edit
It is a German corporation which makes civilian and utility vehicles. They seem to be a popular contract manufacturer, as many vehicles described under different names have been mentioned to be built by Autostraad, or have their badging and corporate grille. Its product range design and expendability is reminiscent of Mercedes and Volkswagen.
The name Autostraad is similar to the Polish word "Autostrada" which means highway.
Their logo may be an easter egg as it similar to Aperture Science's logo from the Portal Game Series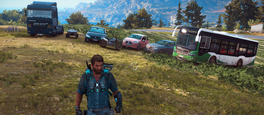 According to the Rebel drop description for the Autostraad Kletterer 300, Autostraad has a reputation for reliability, echoing Mercedes influences.
Corporate grille
Edit
The Autostraad corporate grille is made of a split rectangle with the company badge in the space between. In the split sections of the bar are various parallel-running strips of chrome. A preceding design is featured on the Weltbus and features a single, thicker centered strip of chrome.
The overall design evokes both the BMW "kidney grille" and contemporary versions of Mercedes' historic "avant-garde". It also vaguely resembles Kia's "tiger nose" grille.
The manufacturer of several of the below items has been revealed by exploring the JC3 internal vehicle list.
Community content is available under
CC-BY-SA
unless otherwise noted.