This article has been evaluated to be at quality level 5.
This article may seem complete to the untrained eye, but the gaps in information are still large enough for this elite team of Panauan Ninjas to hide inside of.
BASE jumping
(pronounced
Base
) is an activity in the
Just Cause game series
.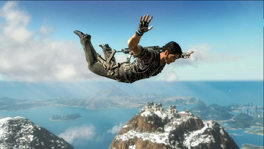 Description
Edit
See also: Wikipedia article.
BASE jumping is measured in meters and is indicated beside the minimap at the top left of the screen. "B.A.S.E." is an acronym that stands for the 4 categories of fixed objects from which one can jump: buildings, antennae, spans (bridges) and earth (cliffs). BASE jumping should not be confused with skydiving.
Just Cause shows record BASE jump statistics in the PDA. Just Cause 2 also shows the current BASE jump altitude meters on screen during the fall. Grappling the ground during a BASE jump will void the jump; the same applies when failing to open the parachute fully and skidding along the ground.
Good places for BASE jumping (JC)
Edit
Good places for BASE jumping (JC2)
Edit
Trophies and Achievements
Edit
Main article: Achievements.
Just Cause has an achievement called "Base Jump 1000 Meters". This is easily exceeded at Rioja 04 "Eagles Nest" safehouse. Jumping from an aircraft will not work.
Just Cause 2 has an achievement called "I Believe I Can Fly". To get this, the BASE jump vertical fall must be at least 1000 meters. Jumping from an aircraft will not work and you must start with an actual jump – running off the cliff will not suffice. The best places to do this are at the top of Desert Peak and the Mile High Club. To do this here, you must jump from the top of a balloon, not off the actual ship.
If an extremely high BASE jump is done in Just Cause 2 (mods may have to be used, or using the hot air balloon), it will say at the bottom of the screen 'OMG! you have just beaten our record base jump here at Avalanche! Respect!'
Skydiving. Similar but can be done from exiting an aircraft.
Community content is available under
CC-BY-SA
unless otherwise noted.