This article has been evaluated to be at quality level 5.
This article may seem complete to the untrained eye, but the gaps in information are still large enough for this elite team of Panauan Ninjas to hide inside of.
Bandar Bukit Rata

Settlement in Panau
Type
Village/Ancient town
Territory
Berawan Besar Mountains
Coordinates
X: 24105; Y:10910
Missions that take place here
None
Bandar Bukit Rata is a village/ancient town in Just Cause 2.
Description
Edit
The settlement has a road connection to Kampung Penggali and Bukit Ketot and is pretty large, with at least 20 large stone houses. The architecture is in Mongolian and Tibetan style, which is common in the Berawan Besar Mountains.
The inner settlement resembles a fortress with massive stone buildings clustered together. There's a circular paved road in the settlement. There is an usual checkpoint with a Chepachet PVD and Hamaya Oldman at the settlement entrance with a few frightened civilians - beaten up and threatened by the Panau Military. Just like at most other checkpoints, they "keep the peace."
The name means "Flat Hill City" in Malaysian.
Completion
Edit
10 Resource items:

4 Vehicle Parts.
4 Weapon Part.
1 Cash Stash.
1 Armor Part.
There's a Skull that can be obtained for the Ular Boys, just south-east of the village. This does not contribute to settlement completion, but does provide the player with chaos points and money, and contributes towards the Just Cause 2 100% completion list.
Further south-east there's a Pipeline, which you can overload and destroy.
Other civilian vehicles can be seen driving on the road.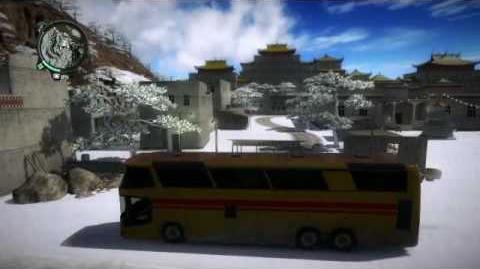 Community content is available under
CC-BY-SA
unless otherwise noted.