This article has been evaluated to be at quality level 5.
This article may seem complete to the untrained eye, but the gaps in information are still large enough for this elite team of Panauan Ninjas to hide inside of.
Bandar Suralaya
Settlement in Panau
Type
Ancient Town
Territory
Berawan Besar Mountains
Coordinates
X:14570; Y:7030
Missions that take place here
None
Bandar Suralaya is a settlement in Just Cause 2.
Description
Edit
The settlement is a typical oppressed ancient town of stone houses. The town square has a market, some monuments and a Propaganda Trailer. The Panau Military presence is very strong and touchy here, there's also another Propaganda Trailer in the upper settlement. Just like Kampung Redup, the town is divided into several upper and lower sections, one eastern, lower section with low stone houses and a large temple, and one upper, located about 100 vertical meters above the lower above some steep cliffs, and houses these typical massive stone houses that can be found in most of these ancient towns. The name is Indonesian for "Sunrise City".
There are a lot of
Red Barrels
to cause
Chaos
.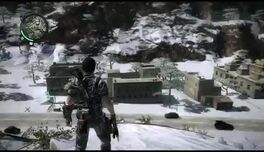 In the north-western part of Berawan Besar Mountains, in a large valley, not too far from Kem General Hong.
Completion
Edit
Community content is available under
CC-BY-SA
unless otherwise noted.