This article has been evaluated to be at quality level 5.
This article may seem complete to the untrained eye, but the gaps in information are still large enough for this elite team of Panauan Ninjas to hide inside of.
Banjaran Berawan Besar Theta
Settlement in Panau
Type
Communications Outpost
Territory
Berawan Besar Mountains
Coordinates
X:25570; Y:11080
Missions that take place here
None
Banjaran Berawan Besar Theta is a Communications Outpost in Just Cause 2.
Description
Edit
The outpost is generic, with standard equipment for most outposts: a Communications Station, a wooden barrack with a Medicine Cabinet and the other standard stuff. This outpost also has a helicopter landing pad.
It's located in a jungle on the steep slopes of the eastern part of the mountains, near the border of
Pelaut Archipelago
and is very isolated.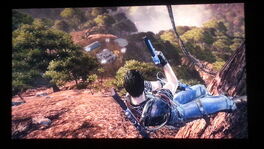 Completion
Edit
Community content is available under
CC-BY-SA
unless otherwise noted.