This article has been evaluated to be at quality level 5.
This article may seem complete to the untrained eye, but the gaps in information are still large enough for this elite team of Panauan Ninjas to hide inside of.
Black Gold is a Reapers mission in Just Cause 2.
Introduction
Edit
Bolo Santosi briefs Rico at the Pulau Dayang Terlena airport and tells him to destroy Panau's only off-shore oil rig, the Pelantar Minyak Gerudi Besar. 
Walkthrough
Edit
Use any aircraft from the same airport. There's planes (
Si-47 Leopard
and
G9 Eclipse
) and a
AH-33 Topachula
helicopter at the airport. Use which ever you like. Just keep in mind that every
off-shore rig in Panau
has a
SAM
and that the easiest way is always with a helicopter.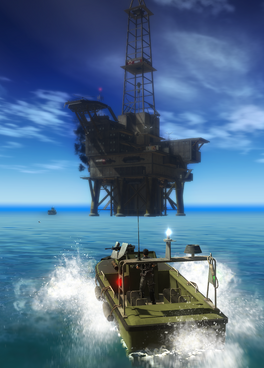 If you were shot down by the SAM, you can complete the mission by the many other available weapons:
Do not take out the two rigs west of the Lautan Lama Desert before doing this mission. It's impossible to complete this mission if the rig is already destroyed. Even when you begin the mission, you may want to take extra care, as several people have also reported that after dying while destroying the oil rig, they have not been able to fill the completion bar and thus have rendered the mission unwinnable. Destroying the central scaffold (drilling tower) in the rig will count as a destroyed oil rig and count towards the total number of rigs that can be destroyed in the game, but will not result in enough damage to complete the mission.

Ups and Downs is another mission that might not be safe, if you complete the destination base in advance.

Depending on the players navigation, the flight-path leading to the offshore rig might pass over the Unnamed roadstop at X:5180; Y:24840.
The player is provided with a jet to complete the mission, however this can be difficult. A UH-10 Chippewa spawns on the helipad at the rig, and the mission may be easier to complete with it.
The name of this mission is a reference to crude oil in general, as it is dark in color and it is becoming more and more difficult to obtain as time goes by. As a result, governments are willing to pay much money (or gold even) to obtain this oil. 
Community content is available under
CC-BY-SA
unless otherwise noted.