The Black Hand is a mercenary faction appearing in Just Cause, Just Cause 3 and Just Cause 4.
This article is about the Black Hand as they appear in Just Cause 4, which is the same private military organization that appeared in JC1 and JC3. To avoid spoilers, see Black Hand in JC1 and Black Hand in JC3 for those games.
Description
Unlike in previous games where they served as secondary antagonists, working as foreign mercenaries and assisting dictators, this time, the Black Hand have become the main faction that Rico has to take down.
Compared to their previous appearances, the Black Hand is more advanced and well-trained. The faction now has access to advanced weapons with secondary fire modes, upgraded armor and helmets and various new archetypes along with the old ones that have appeared in the previous game. They also have new weaponized vehicles, a weaponized prototype wingsuit and a stealth jet, along with their main new weather controlling technology.
The leader of the Black Hand is Commander Gabriela Morales. One of the loading screens compliments her competence and mentions that by the time the game takes place, she has been the commander of the Black Hand for 5 years.
A recruitment advertisement on Solís Hoy radio explains that they protect the sovereignty and freedom of nations and punish those who threaten it. They apparently also stand for family, discipline, strength, order and service.
History and activities
Reportedly, there's a loading screen that mentions that "Diego Espinosa and the Black Hand signed a contract in 1512 that allowed Espinosas to use the Black Hand as their private army."
As revealed on Solís Hoy radio, they were only "local badasses" when Oscar Espinosa rose to power. It was under his rule when they were turned into an internationally known force.
According to one of the game's loading screens, the Black Hand have a decades-long contract with the Espinosas and that they have replaced the original normal military of Solís.
The Black Hand are now owned by Oscar Espinosa, the ruler of Solís. He uses them as the military and police of Solís.
According to the Solís Hoy radio, the Black Hand are active in multiple "major theaters", like Southeast Asia, Africa, and South America, where they have helped countless people after disasters.
As told by Santiago (a former member, who now works at the radio), they did not wear masks back in his time when they were serving domestically. In fact, they had been proud to have their identities locally known, because the people knew them and knew that they were there to protect them. The masks are a recent thing, which he finds disturbing. According to his co-host Diago, one only needs to fear the Black Hand if you have broken the law.
By the end of the storyline, the Army of Chaos had captured the majority of Solís (the exact number of regions is player's choice) and as estimated by Commander Gabriela Morales, they were only able to hold the mountain with the Illapa base.
Commander Morales and the remaining units on the mountain defect to the Army of Chaos when it's obvious that they had lost and after Oscar Espinosa said he would use the Project Illapa super-weapon to kill everyone on the mountain. However, whether Gabriela will ever be seen in Army of Chaos livery will be unknown.
The Solís Hoy radio announces after the mission that some of the Black Hand have defected to the Army of Chaos, but some factions within the Black Hand are refusing to surrender, despite the news. This announcement refers to any of the regions that the player had not taken over before the last mission. The radio host urges them to lay down their arms so the people of Solís could focus on rebuilding.
Depending on the player's choice of the order of missions played, the mission Beachhead could happen either before, or after Operation Illapa. In this mission, Rico and Sargento counter a force of Spearhead Transport ships that are bringing reinforcements to the Black Hand. Sargento mentions that the Black Hand has lots of units stationed in the Other countries in the Just Cause universe and that they're all about to invade. They only really defeat the first 5 ships and a number of infantry and helicopters, before Sargento sends a message to the rest of them that the beach has been compromised and that the others should cancel the mission.
DLC activities
The Dare Devils of Destruction DLC is set relatively early in the game's storyline, but doesn't depict the Black Hand.
The Los Demonios DLC is also set relatively early in the game's storyline, but this time it does feature them. The Black Hand can be seen fighting the demons. The flying insect demons can take control of Black Hand soldiers (grab them and fly off with them) and use the weapons carried by the soldier. In addition to that, the larger demonic tentacles can grab vehicles with vehicle mounted weapons and use them against their enemies. Another trailer also shows that the flying insect demons can also cloak if they absorb a Black Hand ghost unit.
While they officially do not appear in the Danger Rising DLC, it is possible to see some Black Hand helicopters and/or boats fighting alongside The Agency.
Infantry types
The below unit names were announced in the "Just Cause 4 SPOTLIGHT: The Black Hand" video (see below in the videos section).
According to the in-game radio (Solís Hoy), they recruit people by advertising themselves as protecting the sovereignty and freedom of nations and punishing those who threaten it. They apparently also stand for family, discipline, order and service and Solís.
Other known members and former members include:
One random encounter features a "Black Hand spy" whose car broke and stopped at the side of a road. Sargento wants him/her to be picked up and then killed in a seemingly motor vehicle crash. This encounter is called "Accidental Casualty".

Another random encounter which involves Black Hand spies is called "Sniper Assassination". You are tasked to pick up a sniper rifle, on a building roof, and then kill 3 civilians who are actually spies. It's not necessary to use the sniper, any weapon can be used, as long as you stick to the rooftops.

Santiago, one of the hosts at Solís Hoy radio, is a former member of the Black Hand. He served in Solís.
Cadiz and Escobedo are members of an unknown rank, who have been featured in multiple live action game trailers. See at the official Just Cause YouTube page.

They were first featured in a hospital scene along with a number of additional unnamed Black Hand members. Gabriela arrives and demands to know what happened to her base. The men try to explain that it was 1 man who arrived and blew everything up. Gabriela doesn't believe them.
While wearing Christmas themed items, they're calling a neighbor and asking for new vehicles as gifts, because their cars and trucks were apparently destroyed in a lightning storm, sandstorm and tornado. The neighbor does not agree.
The men are at a church and praying. One is praying for a dead (or injured) comrade while the other is praying for Rico.
They're sitting in a house and one of them has dressed up like Rico. He even has a wingsuit on his jacket. He seems to be a fan of Rico. The other guy questions his choices.
They're at a hospital again and one is reading a newspaper while the other is running around and making wind noises with his mouth. Upon being questioned, he explains that he's trying to "become the enemy" in order to understand him.
They're at a cafeteria, wearing elf hats and discussing how Rico attacked their base. They mention that they were very scared, but also scared for Rico, because he could have burned to death. In the end they loudly say "Black Hand forever" to the others in the room, but quietly say that the organization "sucks".
Vehicles
Their vehicles are usually painted in dark gray with red highlights. See supply drop.
Because there is no explicit heat system in Just Cause 4, relative terms have to be used.
Trivia
Gallery
Vehicles
Soldiers
Other
Videos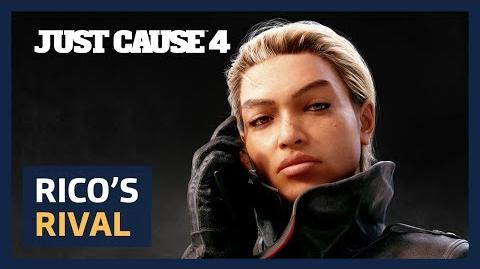 Community content is available under
CC-BY-SA
unless otherwise noted.