This article has been evaluated to be at quality level 5.
This article may seem complete to the untrained eye, but the gaps in information are still large enough for this elite team of Panauan Ninjas to hide inside of.
Bridging New Contacts
Faction Mission
Faction
Ular Boys
Prerequisite Stronghold
Power Surge
Faction Influence Level
2
Required Chaos
60,000
Location
East Tanah Raya
X:23450; Y:19580
Lembah Delima
Rewards
Chaos
5,000
Cash
10,000
Weapon Parts
1
Vehicle Parts
1
Bridging New Contacts is a very fast mission for the Ular Boys in Just Cause 2.
Introduction
Edit
It sends Rico to the aid of an Ular Boys contact who is presently under fire on the bridge nearby the phone. He has to be rescued and then transported to a waiting plane, at the Lembah Delima airport.
Walkthrough
Edit
Once you get the mission, grab the contents of the weapons crate and hop on the motorcycle, tearing straight over the bridge. You will find the contact near his unique Ular
Dalton N90
.
Take out his attackers and pick a car... any car. He will defend you. Take something intact and step on it.
It's a straight shot to the airstrip. There will be a Roadblock at the other end of the bridge. At some point, you will see a downed highway sign, set as a ramp. Hit it, to get some gratuitous stunt driver points and get on the airstrip. If you don't, try the normal way in.
Upon arrival, you'll see a Bering I-86DP taking off. The mission ends as soon as you get to the Ular guarded Cassius 192 (he will vanish instantly).
Completing the airport ahead of time does not prevent the Bering taking off or spawning.
It is possible to Grapple the Bering when it's taking off and divert it off course.
If you enter the Cassius 192 after the mission, the pilot becomes Panau Military grunt or elite that can wield any weapon but the Rocket Launcher, Sniper Rifle, or Grenade Launcher.
The "contact" uses a civilian character model, wearing orange clothing.
This is one of only two Dalton N90s which are not controlled by the Roaches. The other one is at Pulau Berapi, but that one does have Roaches symbols.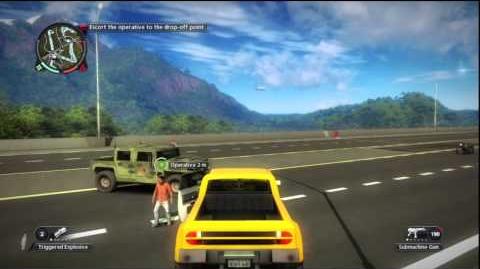 Community content is available under
CC-BY-SA
unless otherwise noted.