This article has been evaluated to be at quality level 6.
Bolo finds this pleasing, but she would like more.
Challenges
are a type of sidemissions in
Just Cause 2
.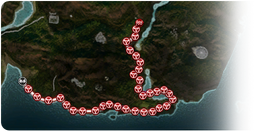 Provided vehicles
Edit
Some races are supposed to be done by Parachute and Grappler, but Rico is usually provided with a vehicle. None of the vehicles are unique in their shape, but they are all in a unique red color that can't be seen anywhere else. Despite being provided with a vehicle, you are free to use any vehicle of a certain type, specified at the race start when it shows you the route, either land, sea or air. You can use a helicopter for all races despite the in-game message telling you that you must use a land/sea/air vehicle. 
None of the races have any other competitors. You just have to get through all the checkpoints in a short enough time.
You can fail a race if you drive too slowly, or if you just drive away from the mission area. But you will never fail a race for destroying your vehicle. This allows you to get a new vehicle, either by Hijacking the nearest convenient one, or by buying one from the Black Market (which isn't recommended considering you will probably spend more on a vehicle than what the race pays- $20,000). Getting a new vehicle isn't recommended if you're trying to beat your old best time.
Checkpoints
Edit
Checkpoints are your objective throughout any race while the amount of checkpoints varies depending on the race being run. When you near a checkpoint (in your vehicle or on foot), they will burst into (harmless) flames to help add visibility. When passing through a checkpoint, you will get 00:10:00 (10 seconds) added to your remaining time (the exception being The Raya Race, which adds 30 seconds because of its enormous length). The checkpoint ring explodes as you pass through it, but this causes no damage to you or your vehicles. In some races there are optional "bonus" checkpoints that will appear between a few of the mandatory numbered checkpoints, these will require you to take a more difficult line (e.g. under a bridge for aircraft, over a jump or parachuting over a bridge for cars), and will reward you with 00:20:00 (20 seconds) added to your time.
Rico gets $20,000 for every completed race, even if the race has been finished before, or if he doesn't beat his previous best time. This is a source of infinite money.
The game also lets the player keep the vehicle, whether they beat the race or not.
Spend the time before you go through the start point to get a good vehicle, not necessarily the provided one - e.g. for road races it might be better to hijack a random passing car than to use the provided one.
A helicopter (especially a Rowlinson K22) will usually be easier than the provided aircraft for aerial races. Just make sure to keep going forward towards the checkpoint especially when they are farther apart, since choppers are not as fast as planes.
Road races in Panau City are easier at night, when there isn't so much traffic.
Do try the races with the provided vehicle at least once, they are chosen to make the race more challenging/interesting/fun!
Certain races are easier to do when military bases that they pass through are completed.
Races, especially those with aircraft, may often show locations of unmarked settlements, Gas Stations, Pipelines, Resource Items, etc.
List of challenges
Edit
| Name | Difficulty (in stars) | Location (PDA map) |
| --- | --- | --- |
| Burj Panau | 3 | X:5650; Y:13700, Panau City Financial District. |
| The Cleavage | 1 | X:18390; Y:12960, Panau Falls Casino (Bottom of building) |
| Demam Tinggi Tower Jump | 2 | X:6550; Y:13775, Panau City Financial District |
| Gunung Berbahaya Drop | 1 | X:21065; Y:13765, Kem Kucing Belang Hitam |
| Holy Diver | 2 | X:23450; Y:13410, Bandar Kayu Manis |
| King of Kings | 3 | X:3635; Y:31620, Three Kings Hotel |
| Panau City Slingalong | 1 | X:6600; Y:12960, Panau City Financial District |
| PBC Plunge | 2 | X:15640; Y:4140, Bandar Baru Nipah |
| Slingshot Galore | 1 | X:4825; Y:15800, Panau City Residental District |
| Tangga Ke Syurga Basejump | 2 | X:3230; Y:15385, Panau City Residental District |
| Twin Dive | 1 | X:3275; Y:15430, Panau City Residental District |
Unofficial races
Edit
There's no challenges, rewards, or recorded best times. These racetracks appear to be tourist attractions.
See also: Easter Eggs and Racetrack.
| Description | Location | Vehicle |
| --- | --- | --- |
| Paved race track. There's always 1 to 3 Titus ZJs with Faction drivers racing around the track non-stop. The racetrack passes through the village of Bandar Selekeh. See the main article for more information. | X:9170; Y:11410. | A Mancini Cavallo 1001 is parked under a roof in the village. Also the aforementioned Titus ZJs. |
| Dirt road race track. There's no one there. | X:11260; Y:4150. | A Titus ZJ is parked somewhere around here. |
| Dirt road race track. There's no one there. | X:29800 Y:15800. | None. |
All races provide green-marked red paint scheme vehicles, but some of those vehicles are the only time they can be seen.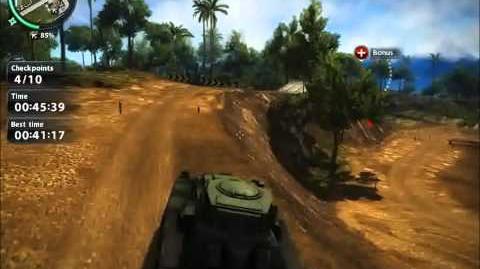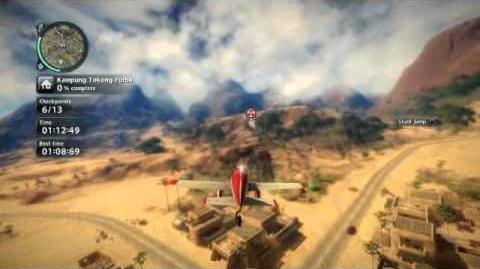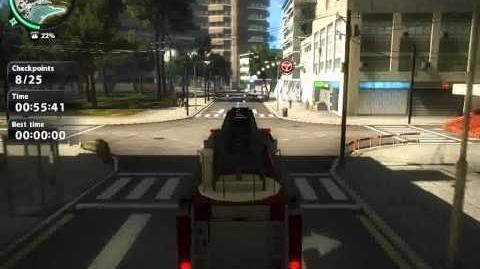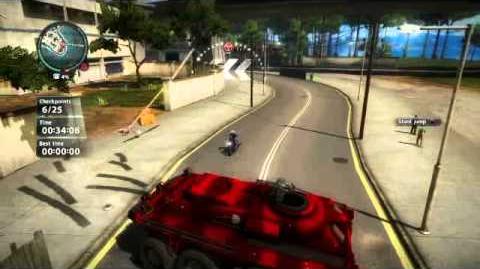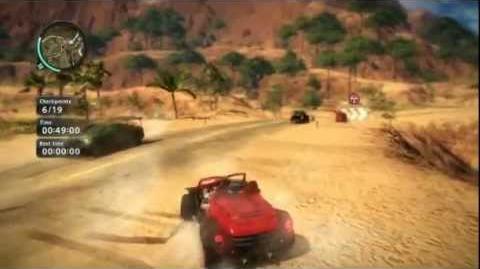 Airplanes
Edit
Feel free to add some!

Feel free to add some!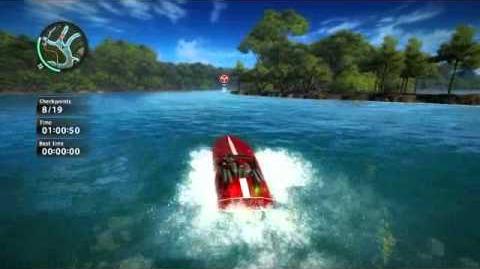 Community content is available under
CC-BY-SA
unless otherwise noted.