Christofer Sundberg
is a high-ranking employee at
Avalanche Studios
.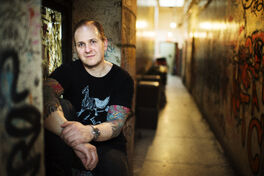 He's a co-founder and "chief creative officer" of Avalanche Studios.
The credits for Just Cause list him as the "creative director". The "original game concept" is credited to him and Nils Gulliksson.
Leaving Avalanche
Edit
Quotes from Twitter:
(2019.02.21): "I just announced to the team here at #AvalancheStudios that I will be leaving the company at the end of April. The studio I founded in my kitchen, built, ran and loved for 16 years, working together with fantastic individuals and teams."
Someone responded and wished him luck, to which he responded with: "Thanks man!! I'll take a little break to return at some point (soon) when I'm ready. I love games. I love making them. I love playing them. Not so fond of the constant gold digging mentality of the industry but I can still make a change and find the passion."
(2019.02.26): "I'm not giving up on games or anything I've done since '92 when I started. It's just a healthy time off and I'll be able to return to make new fun stuff. It's important to broaden your creative horizons and that's exactly what I'm doing. #AvalancheStudios #DropOut"
Personal info
Edit
Facebook account: https://www.facebook.com/CSundberg
Twitter: https://twitter.com/CHSundberg/
On his twitter page he describes himself as "Founder & Chief Creative Officer at Avalanche Studios. Mad Max and Just Cause series maker, trail- & swimrunner and nerdy sneaker nerd."
This section is for quotes that are relevant to the Just Cause game series and which we may also be using in some articles.
About the leaked pre-announcement Just Cause 3 screenshots, early 2015: "To be perfectly clear: Just Cause 3 will be available in 2015 for PlayStation 4, Xbox One and Windows PC. It will be distributed as a retail box and digital download. It is not a "Free To Play" game. It does not feature in-game micro transactions."
Generally about JC3, early 2015: "Beyond launch, we are likely to look into DLC packs and items as part of our ambition to support Just Cause 3 and its players for many years to come, but until that time we're completely focused on making the best Just Cause game we possibly can."
Community content is available under
CC-BY-SA
unless otherwise noted.