This article has been evaluated to be at quality level 5.
This article may seem complete to the untrained eye, but the gaps in information are still large enough for this elite team of Panauan Ninjas to hide inside of.
Cirilla is a small town in Just Cause 3.
Decription
Edit
It's a small town with a local Medici Military presence. During the mission that passes by here, the presence is temporarily increased. However, that problem can be solved by liberating this place.
The town has a whole bunch of agricultural land on its northern side. Just north of the fields is a
gas station
. According to the map, most of the fields are not a part of the town, but they obviously belong to the same community. Despite being a coastal town, there is no dock here, but there is a
Mario garage
.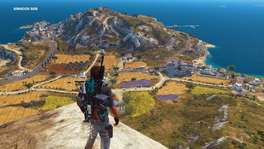 The in-game map description states: "The quaint town of Cirilla is named after Cirillo Salroso, patriarch of the ancient Salirosan people. On the third Sunday of every month, those that still uphold the "Way of Cirillo" meet privately, to share bottles of wine and good food, hoping the spirit of their once-beloved leader will look down upon them and their families favorably."
Rico can spawn at one of the farmhouses here, next to a parked Stria Ghepardo 3S, which is the only parked sports car here.
At the north entrance to the town, there is a strange bump in the road, which can cause your car to get air or react strangely.
Notable features
Edit
Completion
Edit
Community content is available under
CC-BY-SA
unless otherwise noted.