This article has been evaluated to be at quality level 5.
This article may seem complete to the untrained eye, but the gaps in information are still large enough for this elite team of Panauan Ninjas to hide inside of.
Di Ravello billboard

A Billboard in Surpicco.
Sabotage Destructible Object in Just Cause 3
Total amount
Unknown
Armament needed
Small Arms Fire
Value in Chaos points
200
Di Ravello billboards are Sabotage Destructable Objects in Just Cause 3.
Description
Edit
The billboards are painted with a wavy Medician Flag, a picture of Di Ravello on the right and some writing on the left.
They say "Di Ravello" in bold and in
Medician language
"Pace, Derecte, Securitate, Prosperitate" (Romanian for Peace, Security, Prosperity, whilst "Derecte" is Latin for "direct") above it.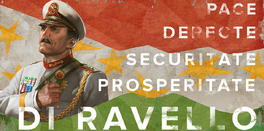 Destructibility
Edit
Billboards are easily to destroy, needing just small arms fire to destroy them. Shooting will cause chunks to chip off where the bullets impact and it is possible to wrench it from its support using the grapple. A grenade or Grappler cable will easily destroy it.
Locations
Edit
At most, if not all, Towns in Medici. They're at the edge of town, next to a road. Depending on the road network, there may be multiple of them.
Citate Di Ravello has several of them throughout the city.
Community content is available under
CC-BY-SA
unless otherwise noted.