This article has been evaluated to be at quality level 5.
This article may seem complete to the untrained eye, but the gaps in information are still large enough for this elite team of Panauan Ninjas to hide inside of.
Falco
is a province in
Just Cause 3
.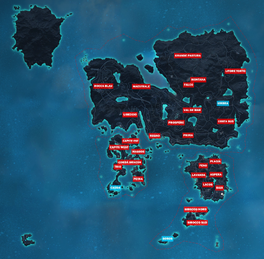 Description
Edit
Falco is the fourth smallest province in Medici, after Aspera, Umbra, and Corda Dracon. Similar to Aspera and Corda Dracon, this province exclusively hosts a regional central command base: Falco Maxime: Centcom. It is also the second smallest province in Insula Striate after Umbra. The province contains 2 tunnels containing a road leading to Cava Montana and the main road in Grande Pastura, an unmarked military outpost near the entrance road to Falco Maxime, and various cliffs, including a Eubus Eagle helipad with a wingsuit course.
Due to the FOW located in the province, in this case Bavarium Nukes, the roads are mainly inaccessible until the nuke launcher is disabled.
Just north-east of the center of the Insula Striate region of Medici, dwarfed by neighboring province Montana to it's north-east.
Settlements and points of interest
Edit
3x The Rocket on the north/south road. Near both ends of the tunnel.

On the southern side of the tunnel, where the road is at an angle down to south.
Mario is in one and starts driving south, as soon as the player gets close enough for him to spawn.
On the northern side of the tunnel, at a checkpoint. From here it's possible to drive north.
Falco means falcon, or hawk, in Italian, which is a fitting name for an air force base at a high location.
Community content is available under
CC-BY-SA
unless otherwise noted.