This article has been evaluated to be at quality level 5.
This article may seem complete to the untrained eye, but the gaps in information are still large enough for this elite team of Panauan Ninjas to hide inside of.
I Want to Break Free is a Reapers mission in Just Cause 2.
Introduction
Edit
Bolo Santosi sends you on a rescue mission to free one of the Reapers associates. He is being held for ransom at a local harbor.
Walkthrough
Edit
Use the provided boat to cruise up to the harbor. You might as well park it on the dock up the ramp since after the next step the boat disappears and cannot be used to escape.
A voice from within the shipping container tells you to bust him out before his captors return. Only two or three guards are stationed by the container. Drop a Triggered Explosive on the end by the door and blow it. You will have to be nearby for the freed hostage to start following you, otherwise he sits in his container, waiting.
You have a choice of getaway vehicle: With Mounted Gun, or without. Either will do, since the hostage will neither drive, nor man the mounted gun. There is a helipad nearby, but he won't get it. Either way, he can be Grappled to the helicopter.
Won't run without a babysitter, can't drive, can't shoot, can't fly... Makes you kind of wonder what Santosi needs him back for so badly. Get in the car and prepare for a rough ride. Once you leave the harbor, you will encounter heavy resistance.
The bad news is that neither of these vehicles has enough armor to withstand a lot of punishment - you will be changing rides a few times. The good news is that your freed hostage will readily move from vehicle to vehicle with you as long as there is a passenger seat. He will also follow if you run, but can't keep up if you sprint. He will be staggered by gunfire, slowing him down, if you don't gun down soldiers pursuing on foot.
Eventually, as you get closer, there will be a roadblock near the village where the drop off point is. The government will also call for air support, which will rip through these vehicles like papier-mache. Get your hostage to the drop-off point before the government chopper arrives.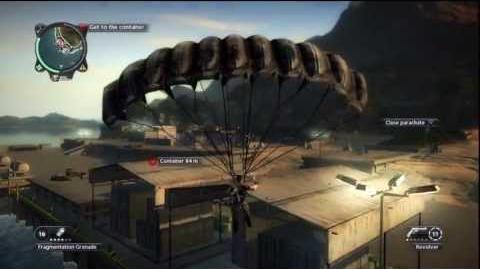 Community content is available under
CC-BY-SA
unless otherwise noted.