New Pokemon Games - The Loop
Play Sound
Insula Fonte is a region in Just Cause 3. It is the first region of the game, where Rico arrives at the beginning of the game.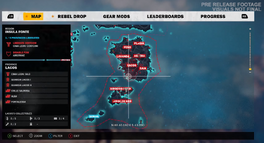 Description
According to the official Just Cause 3 website, Insula Fonte is "a medley of poor and rich towns demonstrating the diversity of people and the style of life in a land crumbling under the ruthless rule of General Di Ravello".
It has also been described as having "endless vibrant flower fields" that are a "common sight as this region is known for its agricultural focus". Citizens in this location are reported to say: "You can't drive two minutes without seeing a soldier".
The area has numerous historic buildings, such as ancient fortresses and church ruins.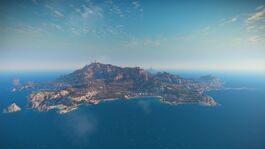 None of the islands in the region are connected by bridges, so boats, planes, helicopters or wingsuiting have to be used to travel between the islands.
The central command for this region is located at Cima Leon: Centcom.
There is only one major civilian airport in the entire region, located in Plagia. Strangely, despite this, Insula Fonte has some of the most dense air traffic in the map.
There is also a small airport in Soros, although it has no dedicated landing strip.
Location
This region covers all the south-east islands.
Provinces
Trivia
"Insula Fonte" translates to "Source Island" in Medician.
This region is the only region in Medici (except for the spawning glitch) where the Black Hand does not appear.