This article has been evaluated to be at quality level 5.
This article may seem complete to the untrained eye, but the gaps in information are still large enough for this elite team of Panauan Ninjas to hide inside of.
Jumping Parole

Mission trigger. (We may need a picture that actually features the mission.)
Faction Mission
Faction
Reapers
Prerequisite Stronghold
Rocket Science
Faction Influence Level
6
Required Chaos
300'000
Location
From X:21640; Y:12604 to Kampung Penggali
Rewards
Chaos
5,000
Cash
10,000
Weapon Parts
1
Vehicle Parts
1
Jumping Parole is a Reapers mission in Just Cause 2.
Introduction
Bolo Santosi's best assassin, Saul Sukarno, has been caught and is being transported by the Panau Military today to his place of execution. She wants Rico to intercept and free him so he will live to fight another day.
Walkthrough

Grab the weapons crate contents then turn towards the phone and leap from the bridge. You have just enough time to BASE-jump and grapple yourself down in time to hijack the Saas PP30 Ox prisoner transport truck. It has an escort and the military immediately gives chase.
If you stick to the road, the military will aggressively run you into obstacles. Even if you don't crash, avoiding everything slows you down enough for them to really lay on the firepower. Luckily the truck is fairly sturdy because the fastest way down the mountain is to avoid the road and head straight downhill. Try to cut corners where the drops are not as steep and the truck doesn't get airborne.
Still, try not to let the vehicle take too much damage.
Alternative ways:
The prisoner will follow you into any vehicle, or even follow you on foot, so it's possible to switch to something else after the initial hijacking.
You can hijack the truck when it's in the vicinity of Kampung Penggali and make your trip to the Reapers drop off point much faster.
Trivia
Sukarno is also the name of the first president of Indonesia.
Sukarno uses the character model of a Reapers elite except without the band covering the mouth.
This is the only mission that starts with the letter "J".
Video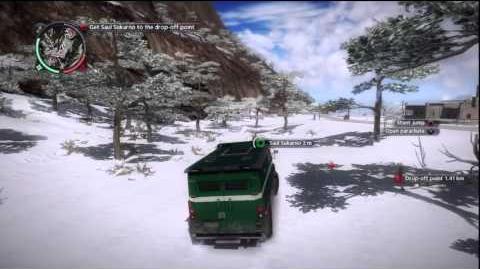 Community content is available under
CC-BY-SA
unless otherwise noted.