Just Cause 3
Developer(s)
Avalanche Studios New York division
Publisher(s)
Square Enix
Aspect Ratio
4:3 and wide-screen
Resolutions
PC - Up to "4K"
PS4 - 1080p
Xbox One - 900p
Platforms
Microsoft Windows (Vista or later)
PlayStation 4
Xbox One
Release Date(s)
Dubai: November 23 or 24, 2015
EU and NA: December 1, 2015
India: December 5, 2015
Japan: January 19, 2016
Genre(s)
Action
Third-person shooter
Mode(s)
Single-player
Multiplayer (PC only)
Ratings
PEGI 18
ESRB M
Media
Retail box and digital download
Languages
English
French
Italian
Japanese
German
Spanish
Arabic
Russian
Portuguese
Spanish
Polish (text only)
Just Cause 3 is the third game in the Just Cause game series.
General info
The game was rumored to be under construction for over a year, until it was announced on November 11, 2014. By the time of the announcement, the game had been worked on for about 3 years.
According to the developers, the Just Cause series is a proper sandbox and they're improving further on that. That means JC3 is even less story focused. The map is also said to be much more densely full. The story will basically let the player know how to use the tools and the player will be able to use them anywhere.
In comparison to Just Cause 2, the storyline is now much longer, but there are no faction sidemissions. However, there are now Random Encounters (which can re-occur) and a lot more types of races and other challenges.
The game allows players to shoot their way through walls, blow up and pull down even bigger Radars and Statues, which will shatter into more pieces. You can even blow up an entire bridge, if you're being chased on it. "That is the scale of destruction we're after, not really breaking a hole in the wall."
"The Modding community has always been something spectacular in all games and any game that gets the love of the modding community is already in a good spot. A game that's all about the sandbox - really in a good spot." - A developer for Just Cause 3.
The game also has "volumetric terrain", which allows players to explore underground caves and climb tall buildings easier.
Awards
Setting and plot summary
General Di Ravello took over the nation of Medici (located in a fictional Mediterranean archipelago) when Rico was still a child. Rico's parents were killed during the coup, but Rico managed to escape and eventually join The Agency. Several years after the events of Just Cause 2, Rico has left the Agency and travels back home to Medici to fight Di Ravello in Medici Civil War.
Di Ravello is planing on using Medici's unique explosive and magnetic mineral Bavarium, along with a vast military to conquer the world. There is a rebellion fighting a civil war against him, but it's failing until Rico shows up to aid them.
Medici was reported to be "nearly 400" square miles but also sometimes "just over" 400 square miles. 400 square miles is the size of Panau, but it will be more densely full than Panau.
Special editions
List of game features and gameplay info
See Category:Just Cause 3 Vehicles and Category:Just Cause 3 Weapons for more about those subjects. The below list no longer covers those.
Downloadable extra content
Main article: Downloadable content for Just Cause 3.
Before launch, Christofer Sundberg reported that "Beyond launch, we are likely to look into DLC packs and items as part of our ambition to support Just Cause 3 and its players for many years to come, but until that time we're completely focused on making the best Just Cause game we possibly can."
There are 3 large expansion packs that add additional areas, missions, vehicles and weapons. In addition to that there's a few smaller DLCs that add a few individual vehicles and weapons.
People playing on the PC can also use the Just Cause 3 Multiplayer.
Patches
Main article: Just Cause 3 Patch history.
Trivia
Gallery
Artworks
Info sheets and others
Screenshots
Most, if not all the screenshots here are promotional ones from developers. This explains some otherwise unobtainable (or just difficult to obtain) camera angles.
Videos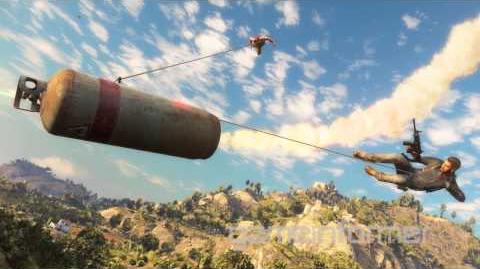 All JC3 gameplay videos are listed here: https://www.youtube.com/playlist?list=PLLX4thG13UY7SEqNMh2OD-W2S_FV_GVru
Sources