This article has been evaluated to be at quality level 5.
This article may seem complete to the untrained eye, but the gaps in information are still large enough for this elite team of Panauan Ninjas to hide inside of.
Kampung Tujuh Telaga
Settlement in Panau
Type
Military controlled airstrip
Territory
Panau Tengah Bay
Coordinates
X:17010; Y:16400
Missions that take place here
Race: Berapi Island starts here.
Kampung Tujuh Telaga is an airport in Just Cause 2.
Description
Edit
Its name means "Seven Wells Village" in Malay. "Tujuh" means seven in Malay/Indonesian. There are no wells here, but coincidentally there are seven planes in Just Cause 2.
This is probably one of the smallest marked airports in Panau. It has a small dirt runway in the direction of Panau Tengah Bay; a wooden Guard Tower; two hangars; a relatively large main building for an arport of this size and some kind of a supporting building with an enterable car garage.
Despite the size, its possible to land here with an
Aeroliner 474
if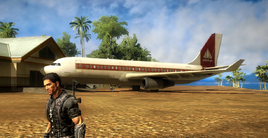 one is careful, however this isn't recommended as it can be difficult to turn the aircraft around again if the player wishes to reuse it.
Even if you complete this location, Peek Airhawk 225s still spawn here with a Panau Military pilot. That's because this place is not a proper military base/airfield that would be deserted after completion.
At a beach in the Panau Tengah Bay. Just east of Bandar Pertama, south-west of Kampung Tiang Emas and north-west of Kampung Batang Reput and Kem General Vikneshwaran.
If you spawn at Karl Blaine's Residence, this is probably the second closest place to get a plane, after Kem Sungai Sejuk. This is arguably the closest airport to Pulau Berapi, at which you can kamikaze your Peek Airhawk 225 (or any plane) into several destructibles.
Completion
Edit
1 x Mullen Skeeter Hawk - Beside the strip itself.
∞ x Peek Airhawk 225 - Spawns and takes off from the airstrip. If you point at it, the crosshair will go red. This means that it must be military property and it has one military soldier piloting it.
1 x Chepachet PVD - At the road Checkpoint, occupied.
Community content is available under
CC-BY-SA
unless otherwise noted.