This article has been evaluated to be at quality level 5.
This article may seem complete to the untrained eye, but the gaps in information are still large enough for this elite team of Panauan Ninjas to hide inside of.
Keeping the Flow

Drug shipment container with a bomb.
Faction Mission
Faction
Roaches
Prerequisite Stronghold
Oil for Blood
Faction Influence Level
4
Required Chaos
180'000
Location
From X:20160; Y:5790
To X:17540; Y:4770
Rewards
Chaos
5000
Cash
10000
Weapon Parts
1
Vehicle Parts
1
Keeping the Flow is a Roaches faction mission in Just Cause 2.
Introduction
Edit
Razak Razman has no problem with sniffing out smugglers using his routes, but ironically has taken offense that the government has systematically targeted his smuggling routes, harassing his shipments along the roads. The government plans on blowing up Roaches drop points. You must stop them and keep the flow of smuggled goods going.
Walkthrough
Edit
Four bombs, four minutes. The clock does not start ticking until you arrive at the first bomb location.
Most locations have Red Barrels that can be used to your advantage. A rocket launcher works just as well.
During the firefight, most of the vehicles nearby may get blown up, or the tires shot out. After the disarming event, hop into the nearest uncrippled ride and speed down the main road to the next bomb. You'll get additional military pulling up to fight if you're not quick enough.
The mission ends once you disarm the fourth bomb.
This mission (along with Siphoning Gas; The Red or the Blue One? and Hell on Wheels) is one that should be done as close to the beginning of the game as possible, because hacking becomes more difficult each time the military upgrades the security level. If that's nolonger an option and you're a PC gamer, there's a Modification that can help. The "Hacking/quick time event - timer modification" increases the hacking time limit.
You should also try to eliminate as much Panau Military soldiers as possible, because they'll be shooting at you (and the bomb). The bomb won't blow up, but will make you restart the hacking.
This is the only mission that starts with the letter "K".
Some Makoto MZ 250s spawn at the bomb locations that don't spawn there any time else.
The bombs appear to be stuffed explosives with a C-4 counter on them. Just like expanded triggered explosives.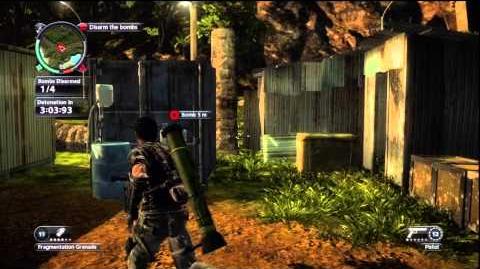 Community content is available under
CC-BY-SA
unless otherwise noted.