This article has been evaluated to be at quality level 5.
This article may seem complete to the untrained eye, but the gaps in information are still large enough for this elite team of Panauan Ninjas to hide inside of.
Kota Tinggi is a village in Just Cause 2.
Description
The settlement seems to be very old. There are a lot of stone houses in different sizes. The settlement is split into two parts by a paved road that crosses it in the middle.
The eastern half consists of mostly two-story houses. A lot of Red Barrels are found here. There's a square on higher ground, with a Marketplace and a Propaganda Trailer.
The western half is located at a cliff and looks like a fortress, with massive stone buildings with yellow curved roofs built in a cluster. There's a smaller square in the "backyard" of this building.
This town is a typical example of tibetan/mongolian architecture in Panau.
The name means "High City" in Malay and Indonesian, which fits the settlement well.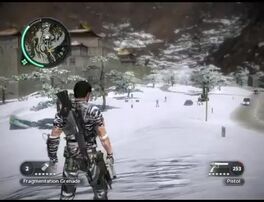 Location
The mountain Gunung Berbahaya rises high over the settlement to the north. There's a cliff on the western edge of town.
Completion
Vehicles
Video
Community content is available under
CC-BY-SA
unless otherwise noted.