New Pokemon Games - The Loop
Play Sound
Lavanda is a province in Just Cause 3.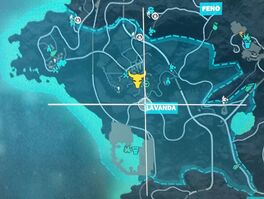 Description
Lavanda's name likely refers to the many lavender fields in Medici, some of which are seen in the province. Much like the rest of Insula Fonte, Lavanda is economically focused on agriculture, and hence is rural in nature. Its main settlements are the town of Lantuina, and the larger town of Rondella. Lavanda also boasts the most monasteries on the Island of Insula Fonte, and the joint-highest in all of Medici (shared with Costa Sud on Insula Striate).
Not too unlike the rest of Medici, Lavanda is very historic, with the town Lantuina "born of a trade boom, providing respite for weary traders and travellers" and its largest town Rondella "built hundreds of years ago, right into the cliffs beneath Sancte Esteban".
Its rocky coast is home to Porto Le Gratia, one of the main military ports of Medici, as well as one military outpost.
Location
Lavanda is on the west coast of the largest island of the Insula Fonte region.
It is bordered by Feno to the north, Aspera to the east and Lacos to the south-east.
Settlements and points of interest
Trivia
Lavanda is one of two provinces that has two monasteries, the other being Costa Sud on Insula Striate.
Lavanda is the Italian word for Lavander.
Gallery