New Pokemon Games - The Loop
Play Sound

This article has been evaluated to be at quality level 5.
This article may seem complete to the untrained eye, but the gaps in information are still large enough for this elite team of Panauan Ninjas to hide inside of.

The Machine Gun is a weapon in Just Cause 2.
For other machine guns see: Machine Gun (disambiguation).
Description
Big brother to the Submachine Gun, the machine gun is a powerful weapon. It is found on some elite military soldiers and Colonels. It is comparable to the Assault Rifle, but with some enhanced aspects; being a little more powerful, holding more ammunition and having more range. Its downsides are also similar to that of the Assault Rifle - in that it is hard to find ammunition, particularly so in the early game and in lower heat levels. It is also one of the last items to be unlocked in the Black Market.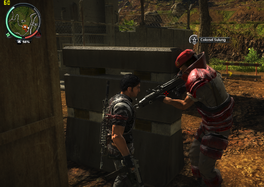 The machine gun resembles the Belgian made M249 SAW and the Israeli IMI Negev. There is a pivot visible under the front end of the gun for mounting the weapon on vehicles and static defenses. This feature is used in-game on the turrets of Maddox FVA 45; MV Quartermaster and a few others. While in a turret, it's called a Mounted Gun. The only way to detach it is to use a glitch.
Performance
The Machine Gun is a relatively powerful weapon from Level 1, but has a rather slow rate of fire. This is improved in later upgrade levels. It becomes quite powerful when it's fully upgraded. The weapon is also very accurate around level four and at level six, you can even snipe enemies from a great distance.
If an attacking helicopter is too far to grapple onto, the machine gun becomes very useful as it can shoot one down in seconds. The same can be done almost as well with an Assault Rifle.
In hardcore difficulty, the damage output by this weapon is pretty high, both to you and the Panau Military, so be wary when running into Panau Military elites with this weapon.
If you have difficulty killing any Panau Military, this weapon will not fail you.
| | | | | | | |
| --- | --- | --- | --- | --- | --- | --- |
| Level | 1 | 2 | 3 | 4 | 5 | 6 |
| Magazine capacity | 26 | 29 | 32 | 35 | 38 | 41 |
| Maximum ammunition (not including bullets in the magazine) | 156 | 174 | 192 | 210 | 228 | 246 |
| Minimum number of shots to kill a grunt | 2 | 2 | 2 | 2 | 2 | 2 |
| Minimum number of shots to kill an elite | 5 | 5 | 4 | 4 | 3 | 3 |
Locations
There's a chest containing a machine gun, at a hut in the village Kampung Sawah Hutan, at X:13550; Y:26300. Coincidentally, this is the same village where Sri Irawan was born, but this doesn't mean Sri Irawan kept a Machine Gun there as a trophy or something.
Can be bought from the Black Market for $70,000. It's one of the last weapons to be unlocked.
Can be looted from dead elites that had this weapon equipped.
Reapers, Ular Boys and Roaches elites sometimes carry this weapon. You can see them getting out of a faction vehicle and equipping this weapon to fight the Panau Military, or you can see them with this weapon equipped at their respective HQs or even their faction Stronghold.
Some members of the Gambler's Den Gambling Group could have this weapon equipped.
Some Imperial Japanese Military soldiers could have this weapon equipped.
Some construction workers (Head of State, Seabreeze Sawmill, elsewhere) could have this weapon equipped.
Used by the Panau Military.

Colonels wield this weapon as their standard weapon.
Colonel bodyguards and elites have a one in three chance of being equipped with this weapon. Otherwise they use shotguns or assault rifles.
In Boys with Toys, there is a soldier in a guard tower that wields this weapon. On lower difficulty levels, the wielder could be a grunt. This is the only time a grunt can be seen with this weapon.
Trivia