Contents
Videos
This Week's Featured Article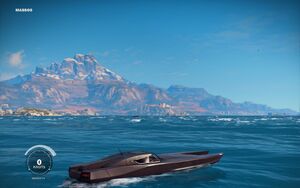 "Wealthy Medicians only dare use Mugello's speedy and sexy Squalo X7 on secluded private lakes, where the risk of running afoul of trigger-happy soldiers is low."
The Squalo X7 is a speedboat in Just Cause 3. It is a slim black boat with tinted windows. The rear looks like a sports car and the front is a catamaran. It was originally the fastest nautical vehicle in the game, until the release of the Loochador (Bavarium Sea Heist DLC). With the nitrous II Gear Mod, it can momentarily reach about 160 knots (~296 km/h) in adequately smooth water. When using it in Races, one should note that the Squalo X7...
Recent Changes
Track the most recent changes to the wiki on this page.
List of abbreviations:
N

This edit created a new page (also see list of new pages)

m

This is a minor edit

b

This edit was performed by a bot

(±123)

The page size changed by this number of bytes
27 October 2021
26 October 2021
Did You Know
Discord
Affiliates
In Other Languages
Action Adventure Wikis