This article has been evaluated to be at quality level 5.
This article may seem complete to the untrained eye, but the gaps in information are still large enough for this elite team of Panauan Ninjas to hide inside of.
Massos
is a province in
Just Cause 3
.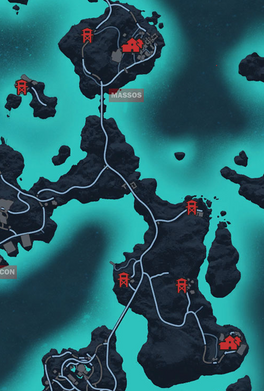 Description
Edit
Massos is the second smallest province in Insula Dracon. Unlike most of the other islands in the region, Massos does not have any fishing villages.
Massos is located in the region of Insula Dracon, south of Capite Est and east of Corda Dracon. It's approximate coordinates are N 40 42.80 E 5 37.00.
Settlements and points of interest
Edit
This province has two Collectible Items, both Di Ravello tapes in Soliana and Cinta.
Guardia Massos V is possibly the largest military outpost in Medici.
At the South end of the bridge below Soliana, there is a guard tower and a lone Doppler Radar, destroying the radar will give you chaos points and it will stay destroyed until you leave the area. This is one of the few places in Medici where you can find chaos objects outside of a settlement.
Massos translates to "Farmhouse" in Catalan.
The strait connecting the northern island and southern island could be called "Stretto Di Ravello" due to the nearby air race called "Volo Stretto Di Ravello."
Community content is available under
CC-BY-SA
unless otherwise noted.