This article has been evaluated to be at quality level 5.
This article may seem complete to the untrained eye, but the gaps in information are still large enough for this elite team of Panauan Ninjas to hide inside of.
The
Medici Grand Prix
is an F1 race mentioned in
Just Cause 3
.
Description
Edit
The race is mentioned in the Rebel drop info for the Mugello Farina Duo F1 car: "Mugello's most recent foray into circuit racing brings us the Farina Duo, driven by Sergio Flores to eight victories this season including the Medici Grand Prix."
According to the Di Ravello tapes, Rico used to be a mediocre F1 driver until he won a race directly as the result of Di Ravello having arranged the sabotage of the lead car's brakes. Alessia also asks Rico if he used to be an F1 driver when he delivers the Mugello Farina Duo to Mario's garage. The random speech lines spoken by Civilians include a male and female pedestrian welcoming Rico home and telling him that they have his "old racecar" tattooed on their back.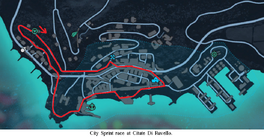 The location of the circuit is unknown.
One likely option is where the "City Sprint" land race at Citate Di Ravello takes place. It makes sense considering that it is a circuit track, allowing one to complete multiple laps around it and it does feature the Mugello Farina Duo.
Community content is available under
CC-BY-SA
unless otherwise noted.