This article has been evaluated to be at quality level 5.
This article may seem complete to the untrained eye, but the gaps in information are still large enough for this elite team of Panauan Ninjas to hide inside of.
Mercenary Mode
is a game mode of
Just Cause 2
that is unlocked after completing the main story.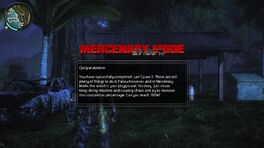 Description
Edit
Mercenary Mode differs from the usual gameplay by the fact that the storyline missions are now complete.
It allows the player to complete Just Cause 2 to 100% total completion and unlock achievements / trophies that were missed. Main article: Just Cause 2 100% completion list.
During mercenary mode the unlock bars (Next faction mission; Next Agency mission; Next stronghold takeover and Next Black market unlock) are replaced with the word COMPLETION and a total percentage.
Important things to note
Edit
All faction and stronghold missions that were not completed before the final agency mission will still be available.
There is no way to reach 100% Completion without a mod. See full details about this at Just Cause 2 100% completion list.
There is often a glitch which makes all civillians / cars disappear. To fix this, start and finish any race and it will bring everyone back. See also: Just Cause 2 Patch and Bugs.