This article has been evaluated to be at quality level 5.
This article may seem complete to the untrained eye, but the gaps in information are still large enough for this elite team of Panauan Ninjas to hide inside of.
Offensive Action is a Roaches faction mission in Just Cause 2.
Introduction
Edit
Razak "The Razor" Razman complains to Rico about dishonest army men having caused an infectious boil to grow in his head. He asks Rico to destroy their base "so the pus can be expunged from his mind forever".
If you know how to use a gun and the Grappler and you've completed a few Military bases in Panau before, then this mission will be very easy.
Walkthrough
Edit

Rico will be provided with a Submachine Gun.
Get a vehicle and go to the Pulau Dongeng military airport.
Razak will call and tell you that "it's time for the scalpel" and that he wants you to "lance the boil for him" by destroying 5 Fuel Silos.
While destroying the silos, Razak will call you again and tell you that it amuses him how the government gets angry at this action. Razak will call again when the last silo is destroyed and tell you that he can now rest, because the boil is out of his mind.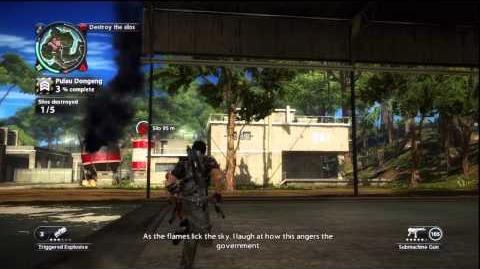 Community content is available under
CC-BY-SA
unless otherwise noted.