This article has been evaluated to be at quality level 5.
This article may seem complete to the untrained eye, but the gaps in information are still large enough for this elite team of Panauan Ninjas to hide inside of.
One Deadly Sin
Faction Mission
Faction
Ular Boys
Prerequisite Stronghold
Pilgrimage
Faction Influence Level
4
Required Chaos
180,000
Location
Panau City Financial District,
Ramai Rakyat Islands
X:6005; Y:13130
Rewards
Chaos
5,000
Cash
10,000
Weapon Parts
1
Vehicle Parts
1
One Deadly Sin is an Ular Boys mission in Just Cause 2.
Inroduction
Edit
Sri Irawan sends Rico to assassinate Councilman Panut, a well respected politician who has refused to take the Ular Boys's bribes.
Walkthrough
Edit
You are provided with a Rowlinson K22 (Machine Guns Equipped) and informed of the councilman's location. All you must do is fly over towards the bridge and shoot his Columbi Excelsior. Alternatively, you can leave the Rowlinson, and jump on top of the councilman's limo. He will lean out of the door to shoot you with a Submachine Gun, but he has rather low health. Either way, it's mission complete.
The councilman's unique red Columbi Excelsior is escorted by an extremely rare
Panau Secret Service
black
MV Quartermaster
.
This mission features some vehicles that cannot be seen anywhere else unless you mod the game:
Oddly, the Panau Secret Servicemen have the Russian flag on their chests.
Main article: Just Cause 2 Vehicle glitches.
 360  It has been reported that the vehicle discoloration glitch may occur during this mission and make the Columbi Excelsior silver/white.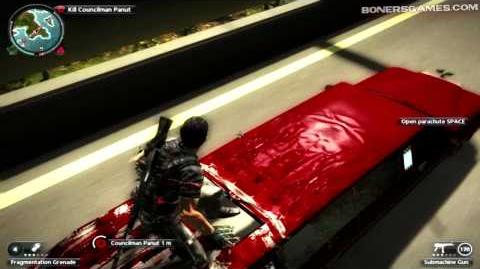 Community content is available under
CC-BY-SA
unless otherwise noted.