This article has been evaluated to be at quality level 5.
This article may seem complete to the untrained eye, but the gaps in information are still large enough for this elite team of Panauan Ninjas to hide inside of.
Pekan Juku-Juku
Settlement in Panau
Type
Village
Territory
West Tanah Raya
Coordinates
X:14970; Y:2975
Missions that take place here
None
Pekan Juku-Juku is a village in Just Cause 2.
Description
Edit
The name means "Village Juku-Juku" in Malay and Indonesian.
The village is located at the end of most western arm of the Sungai Sejuk river and is spread out on both sides of the river. The line of influence between the Ular Boys West Tanah Raya and the Roaches Pelaut Archipelago influental areas goes on the river, though the village is counted to West Tanah Raya.
The village is mostly a fishing port and is holding a lot of wooden cabins, most of them are staged up on pillars. A wooden bridge connects the village halfs to each other.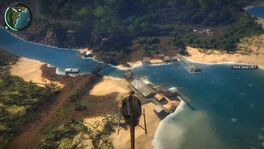 Completion
Edit
Random civilian vehicles.