Welcome to the
Just Cause Wiki
This page is the portal for all things Just Cause (1)
Just Cause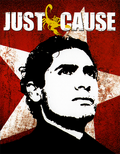 Just Cause is a video game, released on September 22, 2006 for Microsoft Windows, Xbox, Xbox 360, and PlayStation 2 platforms in Europe. It arrived in North America on September 27, 2006. The game was developed by Avalanche Studios and was published by Eidos Interactive. The game takes the form of a third-person "sandbox" type. The game area is reported to be over 250,000 acres (1024 km²) in size, with 21 story missions and about 40 side missions to complete.
The open, non-linear environment allows players to explore and choose how they wish to play the game. Although storyline missions are necessary to progress through the game, players can complete them at their own leisure. When not taking on a storyline mission, players can free-roam and create havoc. However, doing so can attract unwanted and potentially fatal attention from the authorities - "Heat".
Contents
Vehicles

Information

Missions

Weapons & More

Locations

Characters
Featured Article

The
Rage-Johnston F6 Comet
is the third fastest aircraft in the game. It's good against other jet fighters like the
Ulysses-McCoy Redcloud
, but it's difficult to use for
stunts
, such as flying through narrow spaces that are close to the ground, because it's less agile and maneuverable than the
Rage-Johnston F10 Wraith
.
It is the medium between the slower, more agile, dual cannon F2 Victor and the faster, less agile, dual missile Redcloud, as it has medium speed and agility, and armed with one of both weapons...
Featured Images
Recent Activity
Affiliates
In Other Languages