Welcome to the
Just Cause Wiki
This page is the portal for all things Just Cause 2
Just Cause 2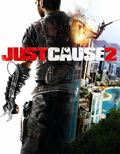 The player controls protagonist Rico Rodriguez, an Operative of the Agency, sent to Panau to find Tom Sheldon, Rico's former commanding officer, mentor, and friend, now accused of stealing top-secret intelligence and millions in Agency funds.
To complicate matters further, Panau was recently taken over by
Baby Panay
, a ruthless dictator, who rules the island with an iron fist; causing unrest among its citizens. While three rival Factions, the Reapers, The Ular Boys, and The Roaches, whose constant struggle for power and position often result in all out war on the streets, take advantage of the turmoil. Rico must now work with these Factions to gain information on his target, causing his own brand of
Chaos
along the way.
Contents
Vehicles

Information

Missions

Weapons & More

Locations

Characters
Featured Article

The
URGA-9380
is a large armoured military truck resembling an
Oshkosh M1070 "Heavy Equipment Transport Truck"
. It has 6 wheels and a big armoured cabin. Sometimes it has a towing frame and sometimes a mounted weapon.
It can spawn in jungle snow and desert camouflage. In 'Save the Forest' a unique blue camouflage one spawns with the enemy foreman on the gun.
One of the usual configurations for the Oshkosh M1070 is the a semitrailer form, which is unavailable on the URGA-9380...
Featured Images
Recent Activity
Affiliates
In Other Languages
Community content is available under
CC-BY-SA
unless otherwise noted.