This article has been evaluated to be at quality level 5.
This article may seem complete to the untrained eye, but the gaps in information are still large enough for this elite team of Panauan Ninjas to hide inside of.
Porto Darsena
Settlement in Medici
Type
Military port
Region
Insula Dracon
Province
Trio
Coordinates
N 40 42.20 E 5 35.10
Missions that take place here
None
Porto Darsena is a military port in Just Cause 3.
Description
Edit
It's entirely under ground and it's probably one of the 3 to 5 largest ports in Medici.
Strangely there's 3 SAMs in the cave. The base has a set of large inaccessible hangar doors on one wall. In the middle of the port is a large concrete structure that looks like a submarine pen. The same structure is present at a few other ports. The port has a system of roads throughout the cave. The roads are connected to the civilian roads on the surface.
The in-game map description is: "Hidden within a subterranean cave complex, Porto Darsena's existence is known to few outside of the Medician military. It serves as a refinery for local hydraulic fracturing operations, where the government has successfully tapped a 110 trillion cubic foot reservoir of natural gas known as the Ponere Shale Shelf."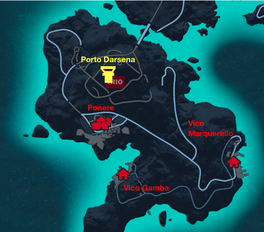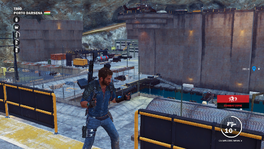 Under ground in a large cave. Look at the
Trio
map. It's the area where there seems to be a system of roads, but no marked buildings. The cave has boat entrances, but it's also possible to enter with an aircraft because the cave has a partially open roof.
Completion
Edit
Rewards:
This is one of the richest military facilities in terms of the choice of vehicles. Additional Military Corvettes and CS Powerrun 77s will show up as military reinforcements and rebel support respectively during the liberation.
Community content is available under
CC-BY-SA
unless otherwise noted.