This article has been evaluated to be at quality level 5.
This article may seem complete to the untrained eye, but the gaps in information are still large enough for this elite team of Panauan Ninjas to hide inside of.
Porto Le Gratia
Settlement in Medici
Type
Military base
Region
Insula Fonte
Province
Lavanda
Coordinates
N 40 41.330
E 5 42.260
Missions that take place here
None
Porto Le Gratia is a military port in Just Cause 3.
Description
Edit
It's a large military base with lots of destructible items. There is what appears to be a dry dock near the
Distillation Towers
, along with 2 blue cranes. There is a large tide wall around the base which has concrete Guard towers on it. There are large
oil cisterns
opposite the dry dock, one of which has an
Urga Postolka
parked on top.
At the middle of the port is a massive concrete building, which seems to be a submarine pen (a special armored dock for submarines that's meant to protect them from air attack), but strangely this building has holes in the roof, so the purpose is unknown.
The in-game description says "Razed during the Second World War and rebuilt during the tenure of the late President Dante, Porto Le Gratia processes the great bulk of Medici's inbound shipments of tanks and artillery and facilitates their distribution across the island."
The base is right on the border between
Lacos
and
Lavanda
, on the west coast of
Insula Fonte
.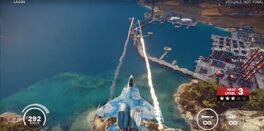 Completion
Edit
Rewards:
There are no automated gates at the entire base. On the south side one chainlink gate will always be closed, the other open, and on the east side there is no gate at all.
Community content is available under
CC-BY-SA
unless otherwise noted.