New Pokemon Games - The Loop
Play Sound

This article has been evaluated to be at quality level 5.
This article may seem complete to the untrained eye, but the gaps in information are still large enough for this elite team of Panauan Ninjas to hide inside of.
Rebel drop is an in-game menu used to obtain weapons and vehicles in Just Cause 3.
Description
The rebel drop is unlocked by completing the mission Mario's Rebel Drops.
Rebel drop can be used to order an airdrop of a vehicle and up to three weapons. Once the items have been ordered through the Rebel Drop menu, the player must then throw a beacon to the ground and wait for the airdrop to commence. A Rebellion CS7 Thunderhawk will then fly overhead and drop the items from 20 meters. The items will drop to the ground in a single crate, which then explodes open to reveal the items. Weapons will arrive in a Weapon Crate.
Very few items cannot be rebel dropped, including the police Stria Joia, Rubber Ducky, The Rocket and The Little General.
Items can be unlocked for rebel drop through the completion of certain settlements (typically large military bases), or through the completion of missions. All vehicles delivered to Frigo Garages will also become available for rebel drop. These garages can be found in all liberated towns across Medici.
There is a restock time for every item ordered through Rebel Drop. It cannot be reordered until the restock time has elapsed. This timer continues to run while the game is paused or turned off. There are Gear Mods to shorten and eliminate the restock timers.
All rebel drops will point north. If dropping a plane like the U41 Ptakojester make sure you drop it in a place where it can take off.
See Category:Just Cause 3 Vehicles and Category:Just Cause 3 Weapons for reference.
Beacons
Rebel Drop can only be used when the player has enough beacons. They can be used anywhere, regardless of heat or combat zone. Open sky is not even required; if you throw a beacon in a cave, your drop will be on the surface above.
These beacons can be attained from designated beacon resupply points scattered throughout Medici. The player attains beacons through the competition of Random Encounters, missions and settlements. Only one beacon can be carried by the player at the start of the game, but Gear Mods can later be used to increase this amount to five.
Beacon resupply points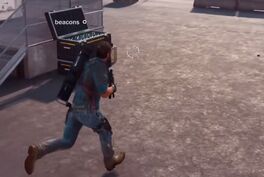 The Beacon Resupply point is a black crate which is open and has ten compartments, each containing a single beacon. Walking near the crate fills Rico's beacon supply.
The boxes can be seen from a distance due to the marker over the box which says "Beacons".
Beacon resupply points can be found all across Medici, including at:
Reportedly there are at least 49 of them.
Note that rarely, the resupply points are completely empty, even if you didn't resupply from them. This might be a small glitch.
Rebel Drop list
Notes for both tables:
Weapons
Two-Handed
Dual Wield
Special
Assault Rifles:
Pistols:
Rocket Launchers:
LMG:
SMG:
Grenade Launchers:
Shotguns:
Exotic:
Sniper Rifles:
Exotic
FOW
Vehicles
| Motorcycles | Off road | Vintage cars | Modern cars |
| --- | --- | --- | --- |
| | | | |
| Sports cars | Utility vehicles | Combat cars | Tanks |
| | | | |
| Sea vehicles | Helicopters | Planes | Drones |
| | | | |
| Mechs | Rebel Support | | |
| | | | |
Alessia Quotes
Alessia will comment on almost every vehicle Rico brings to a Frigo Garage for rebel drop. She does not acknowledge destroyed vehicles and does not comment on vehicles Rico is not inside of. However, if a civilian driving a vehicle inadvertently drives into a garage but is already in the system, Alessia will say "Rico, we don't need that one anymore.
Unique comments:
Repeated comments:
Others:
Trivia
The Just Cause version of this is Heavy drop and the Just Cause 2 version is the Black Market. The successor to this in Just Cause 4 is called supply drop.
Realistically it would be impossible to have a CS7 Thunderhawk-like fighter jet airdrop a massive shipping container. A cargo plane like the U41 Ptakojester would make more sense in such a role.
It has been reported that it is possible to obtain free rebel drops (excluding all weapons, as well as tanks). Go to a race that uses the type of vehicle you want (air races for aircraft, land races for land vehicles, etc). Once the GUI opens up, press X and select the vehicle you want and start the race. Race completion is optional, because theoretically you can just pause and select Quit Race.
The only weapons not available through rebel drop are The Little General and DK Pistol.

It's not known why the former is not available considering it is still very much a valid weapon, but the latter is an easter egg, and those usually only have one spawn point in any game.

Sometimes, one might find the beacon system extremely annoying since it might waste a lot of time to go to the nearest resupply point when you're far from liberated territory.

This mod found here changes this, allowing for infinite beacons. JC1 has flares for heavy drop and extractions, which realistically should be one time use, but even there Rico has an infinite amount.
JC4 fixes this. The supply drop can drop things infinite times, although there is a short cooldown period for the pilots to restock their supplies.

There are four towns with Frigo Garages that are built into the coast. Three of those settlements are also unique.

Colle Salrosa was once its own sovereign country as a city-state before becoming part of Medici at some unknown point in time.
Perla Est is the only settlement in Medici to have two Frigo Garages instead of one. In this case, the one further inland is near a stadium.
Gallery
Video
See around 8:18