This article has been evaluated to be at quality level 5.
This article may seem complete to the untrained eye, but the gaps in information are still large enough for this elite team of Panauan Ninjas to hide inside of.
The
Snow Peak
, also known as
Gunung Raya
, is the highest mountain (and point) in
Just Cause 2
.

Description
Edit
Gunung Raya means Great Mountain in Malay and Indonesian.
The peak is about 1,890 meters above sea level (confirmed by parachute climbing). In the real world, in this climate zone, this is far too low to cause snowfall instead of rain.
Two settlements are found in the area close to the Gunung Raya peak. One village named Bandar Gunung Raya, which is located east of the mountain on the end of a public road at around 1,380 meters height, 500 vertical meters from the top of the peak. Further up the hill is a military base named Kem Gunung Raya, located just below the peak on the northwest side, and the roadway from the village leads up to the base, but is closed with a roadblock at the village. These settlements are some of the highest in the game.
There is also a smaller 1,743 meter high peak a little to the east of the peak - Gunung Kedua.
The peak also provides excellent views of the settlements within the area, the Mile High Club, Panau City and a view of the Lautan Lama Desert.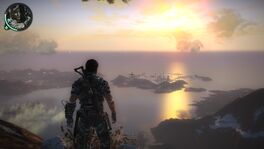 This mountain is located at the PDA map co-ordinates: X:20550; Y:11830.
Missions in the area
Edit
Kem Gunung Raya. This is the closest settlement to the top of the mountain.
Other information
Edit
Community content is available under
CC-BY-SA
unless otherwise noted.