Soros
is a province in
Just Cause 3
.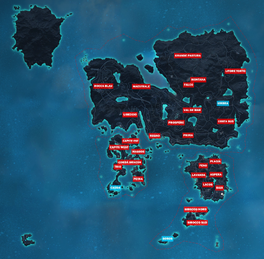 Description
Edit
According to the map, Soros appears to be composed of 2 islands.
This is one of three provinces that are liberated from the start of the game, the others being Cauda and Umbra.
The northernmost island in Soros has one singular house on its own, a civilian usually spawns outside on a chair. There is also a Rebel shrine here.
The southernmost island in Soros is ancient structures and temples and a cove/cave which is the first base of the Rebellion, Cava de Rebelles. It's an ideal hideout as it is in a cave so it is less vulnerable to get attacked by the Medici Military forces, unlike the rebel base in Cauda where a large amount of it is visible. There's a Lighthouse on the highest point of the southern island, visible even from Insula Striate.
The most southern province in Medici, in the Insula Fonte reigon. The nearest province is Sirocco Sud, lying north-east.
Settlements and points of interest
Edit
Community content is available under
CC-BY-SA
unless otherwise noted.