Tasik Permata
Settlement in Panau
Type
Village
Territory
Lautan Lama Desert
Coordinates
X:4690; Y:22070
Missions that take place here
None, but the convoy in Hell on Wheels ends their ride here.
Tasik Permata is a village in Just Cause 2.
Description
Edit
The village is of medium size. There are about 10-20 houses there, a bell tower and separated from the village, a large mansion.
The main part of the village has a heavy military presence, including a Propaganda Trailer. There's at least one Chepachet PVD found here. In the most outer part of the village has a Gas Station.
The mansion is located a little north of the main village and houses several things; a lot of stuff on the roof, including a Mullen Skeeter Eagle helicopter and a Pandak "Baby" Panay Statue in the backyard. The mansion is similar to many other mansions in Panau, including that in Rumah Hartawan. It most likely belongs to some Panau Military Colonel or Officer, but that's not known, as no one is actually there.
The name means "Gem Lake" in Indonesian and Malaysian.
There's an underwater fence at a big rock near the map marker. The maker is located about 500 meters further north than it should be.
South of Pulau Dayang Terlena and west of the Gurun Lautan Lama Beta. The settlement lies next to a lake in a deep valley.
Completion
Edit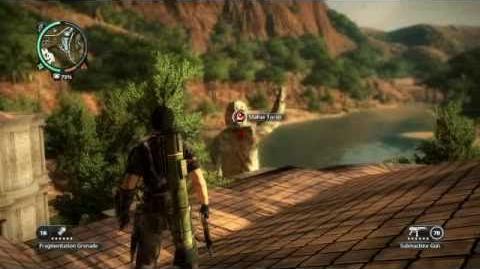 Community content is available under
CC-BY-SA
unless otherwise noted.