The
technician
is a type of faction member in
Just Cause 2
. Their job it to hacking into the
Panau military's
computer system (as mentioned at the beginning of each stronghold takeover mission) so that they can take fully control of
Strongholds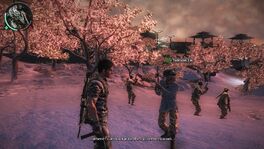 Appearance
Technician only appear in the stronghold takeover missions and Into the Den. They always wear a white lab coat and some other stuff to distinguish themself from each factions.
Weapons
In Stronghold Takeover, the Technician often carry a pistol, but in the mission Into the Den, the technicians are carrying shotgun. They usually do not use them unless you have destroyed the anti-aircraft cannon and there's still Panau Military nearby.
Skin Model
Ular Boys - Wears grey pants, white lab coat, yellow rag and a gas mask.
Reapers - Wears desert camouflage pants, white lab coat, red scarf, eyeglasses, and a hat.
Roaches - Wears blue pants, white lab coat and eyeglasses.
Trivia
Each faction's technician have their own faction's symbol on their chest.
When the Roaches technicians are speaking in the stronghold missions, there is no movement in the mouth. And it's kinda awkward to watch him talking with a closed mouth