This article has been evaluated to be at quality level 5.
This article may seem complete to the untrained eye, but the gaps in information are still large enough for this elite team of Panauan Ninjas to hide inside of.
Weapons Warehouse
Settlement in Medici
Type
Storage for Black Hand weaponry and Mechs
Region
Insula Lacrima
Province
Nebio Nord
Coordinates
N 40 52.445
E 5 36.525
Missions that take place here
None
The Weapons Warehouse is a settlement in Just Cause 3 that appears only as a part of the Mech Land Assault DLC.
Description
Edit
As evidenced by the name, it is used by the Black Hand to store Mechs and presumably other weaponry.
According to the in-game description, it's one of the latest additions to the island.
The in-game map description states: "With its cranes and holes, the Weapons Warehouse is clearly a most recent addition to the island's panorama. As the Black Hand decided to ramp up their operations on Lacrima, they settled on this advantageous location on the north coast of Nebio, away from Medici (and from unwanted attention), and straight into international waters. A battalion of Mechs is stationed here with a double objective: construction and destruction. As part of their generous deal with the eDEN Corporation a few years back, the Black Hand also received a few eDEN Mechs for their own use. They started using them as heavy-duty loaders (their intended purpose), but soon realized their potential and started retrofitting them: armored cockpit, weapons on the right arm. The final touch was a new, gloomy Black Hand color scheme to replace eDEN's shooting shades of blue."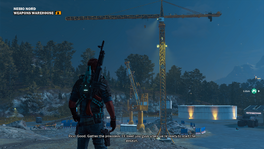 In Nebio Nord in Insula Lacrima, west of the Hive.
Completion
Edit
Community content is available under
CC-BY-SA
unless otherwise noted.