This article has been evaluated to be at quality level 5.
This article may seem complete to the untrained eye, but the gaps in information are still large enough for this elite team of Panauan Ninjas to hide inside of.

West Tanah Raya is one of the nine districts of Panau, in Just Cause 2.
Basic info
Edit
It is located in the northwestern part of the map. Two of Panau City's islands are located within the district, plus the mysterious Hantu Island. It also contains one military airport, some small settlements and the Panau Motorway/Highway System passes through the district.
This province means "West Great Ground" in Malay.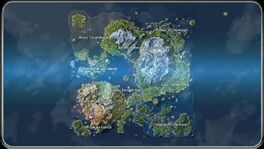 Geography
Edit
The West Tanah Raya district's area is mostly water, with a tropical forest, mountains and urban areas covering most of its land area. Panau City is to the South, Hantu Island to the northwest, and the western tip of the Berawan Besar Mountains to the east of the district. The district also contains many small islands scattered throughout West Tanah Raya's large water area.
On Hantu Island there is a massive tower, and if any form of aircraft is flown in the vicinity of the island the tower will knock out the aircraft, making it crash on the island. In addition, it is inhabited by remnants of the Imperial Japanese Army of World War II. The weather on the island is rainy up until you do the Ular Boys mission Stranded. The weather will then change to be sunny, but the Japanese soldiers will still remain.
Transport
Edit
West Tanah Raya is extensively covered by roads which connect to all settlements and bases in the area. There is one airport in the district, located in the Northeast and a port in the Southwest. The Panau Motorway/Highway System runs along the entire coast of West Tanah Raya, with six junctions in the district connecting the settlements, bases, airport and port to Panau City, which is less than three kilometres from the district's coast. Panau International Airport is also just across the border to the south via the M5.
Most of the people there are Orientals, along with a sparse Ular population. The dominant religions appear to be Hinduism or Buddhism, with a sparse amount of Christians.
The houses in this area closely resemble Tongkonan houses in Toraja, Celebes.
Community content is available under
CC-BY-SA
unless otherwise noted.